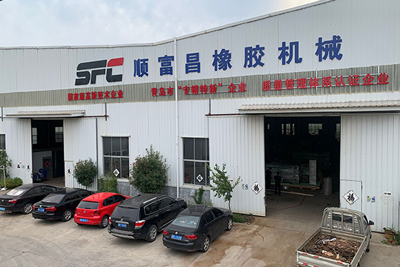 Qingdao Shun Cheong Machine Co. was founded in 1968 under the original name of First Rubber Machine Factory. To this day, we maintain the same goal of manufacturing the highest quality rubber processing equipment on the market. Our high efficiency and high output machinery is the result of decades of industry expertise brought to life.
The company headquarters is located at No.388, Fengshan Rd, New District, Qingdao, China. Our product catalog covers a wide range of equipment that is used for tire manufacturing, rubber conveyor belt production, tire recycling and other rubber processing operations. Our main products include banbury rubber mixers, rubber mixing mills, and vulcanizing presses.
Shun Cheong is ISO9001:2008 Qualtiy Management System, CE, and SGS certified for the trusted production of rubber processing equipment. With these international certifications we have the opportunity to supply quality equipment to customers around the world. We deliver to more than 50 countries across the globe including the UK, Switzerland, the US, Germany, Brazil, Singapore, India, and Russia. We have established a significant amount of long-term cooperative relationships with domestic and international clients in order to best serve the end users of our products.
Product quality and after-sales service is the cornerstone of Shun Cheong's success and the first priority of the company's management philosophy. Therefore, we pledge:
1. Every component will be strictly and thoroughly inspected prior to delivery.
2. All products will undergo run testing prior to delivery. For example, the plate vulcanizing machine will be tested under 1.25 times the nominal working pressure for 24 hours and the rubber mixing mill will be tested under 1.1 times the nominal rubber mixing amount for 20 minutes.
3. All products are provided with free technical consulting.
4. The warranty period for primary machine components is 3 years and for vulnerable components is 1 year.
5. Any quality problems that may arise during use will be addressed by our salesmen or technicians via internet or phone. If the problem cannot be resolved quickly, we will request local agents or engineers for on-site repairs.
To better serve our clients, we provide onsite visits and consulting for all sorts of operations from tire production to rubber recycling enterprises.