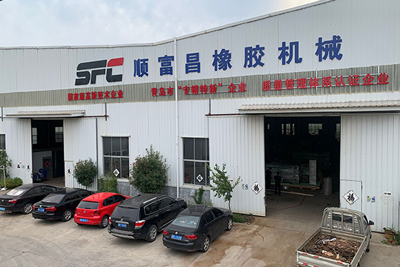 Qingdao Shun Cheong Rubber Machinery Manufacturing Co., Ltd. (Shun Cheong) is a high-tech company specialized in manufacturing rubber machinery. Based in Qingdao west coast new economic district, Shun Cheong has earned many honorific titles such as "Qingdao Specialized and Special-new Enterprise" and "National High-tech Enterprise", and its trademark "Shun Cheong" has won a reputation in the industry for the production of rubber machines that have attained ISO9001:2015 quality system certification, Swiss SGS certification and CE export certification. Each of our rubber machine is designed using professional 3D software, meticulously manufactured and carefully inspected to meet our high standards of excellence. To date, we have exported our rubber machines to a number of countries and regions including USA, UK, Russia, Netherlands, Thailand, Malaysia, Indonesia, Chile, Mexico, Ukraine, Uzbekistan, France, etc.
With a 5 million yuan registered capital and an independent R&D team of technical engineers who have worked in the industry for 5-20 years, Shun Cheong has been granted over 20 product patents, and has so far mastered a number of advantages in the field of rubber machinery and has maintained a leading position within the industry.
The product line of Shun Cheong includes Banbury rubber mixer, rubber mixing mill, vulcanizing press, rubber calendering machine, rubber cooling machine, rubber kneader, rubber extrusion machine, waste tire recycling line, reclaimed rubber production line, etc. At Shun Cheong, we have the ability to design and manufacture various rubber machines that are tailored to your specific needs.
Shun Cheong has provided many customers worldwide with different newly developed rubber equipment such as EPDM runway granules production line, rubber band production line, automotive butyl sheet production line, sound insulation and shock cushion production line and rubber dredging pipe production line. We are capable of providing turnkey solutions from rubber equipment to manufacturing technologies, which are highly appreciated by our global customers.
All employees at Shun Cheong are eager to supply high-efficiency rubber processing equipment that combines superior technology with high quality and customer service for all customers around the globe.
We cordially invite you to visit our company or give us a call for quotation.